Protect Your Home & Family From Dangerous Mosquitoes!
Mosquitoes have always been a nuisance, but they are also becoming more dangerous as they continue to spread harmful illnesses to people. Unfortunately, many of the diseases that mosquitoes spread are often fatal to people around the globe. While eliminating mosquitoes entirely from your Dallas property is not yet possible, you can reduce their populations drastically, along with your chances of contracting a mosquito-borne disease, with the help of a mosquito control program from Dynasty Pest Control.
Our Mosquito Control Offerings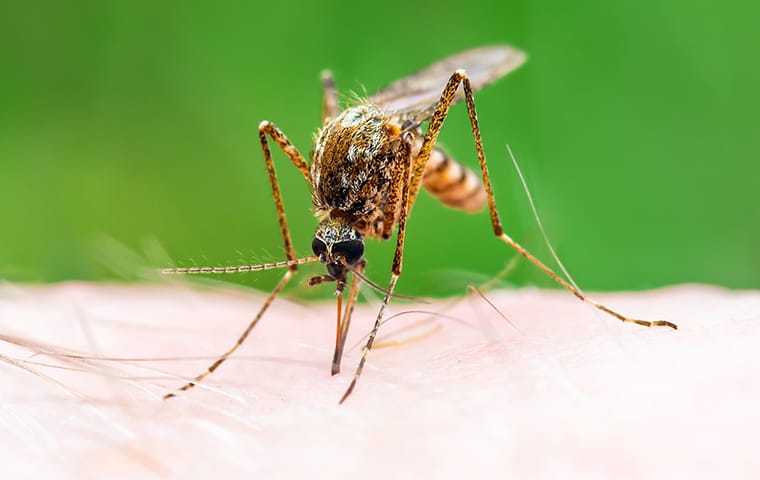 We offer several options for mosquito control so that you can choose the treatment plan that works best for you and your family. These options include In2Care mosquito traps, fogging services, and mosquito misting systems.
In2Care Mosquito Traps
For an all-natural option to keep mosquitoes under control, our In2Care mosquito traps are an excellent option. We'll begin by performing an inspection of your property to determine how many traps are necessary, as well as what locations to put them in. Most properties require two units, although some may need three or four. After the inspection, we'll set up an initial service visit to install the In2Care system. Since it takes about three weeks for the system to eliminate mosquitoes, we'll also perform a fogging treatment at this time.
Once the In2Care units are set up, they work by luring mosquitoes to the traps where they pick up a larvicide. The mosquitoes then spread the larvicide to breeding areas, including ones that are difficult to reach with other mosquito control treatments. This eliminates mosquitoes in the early stages of development. The trap also has a biological adulticide so that the mosquito that picked up the larvicide dies a few days later. Over a few weeks, the mosquito population will be greatly reduced on the property. Our In2Care units are serviced between April and October to eliminate mosquitoes during their most active breeding and feeding seasons.
Mosquito Fogging Services
Dynasty Pest Control offers a mosquito fogging service to eliminate the mosquitoes on your property. We provide this service monthly between April and October, but one-time treatments are also available. During a fogging session, our service technician will use a backpack fogging machine to treat all of your landscaping and trees. We'll also apply an organic granular to your lawn and a larvicide to all areas of standing water. If you choose the monthly plan, your service is guaranteed. We will return to re-treat for free if you're still having mosquito problems in between scheduled visits. We'll also re-treat for free if you have a special event coming up. One-time fogging does not come with a warranty.
Mosquito-Free Living Is Just One Call Away!
Enjoying your Texas yard should not be a battle against tiny, dangerous pests. Protect your family and your free time with the help of a mosquito control plan from Dynasty Pest Control. Our mosquito treatments will reduce the number of mosquitoes on your property so that you can spend time enjoying the great outdoors instead of fighting against it. To learn more about our mosquito control options, or to learn about our general residential or commercial pest control services in Greater Dallas, contact us today!
Request Your Free Inspection
Complete the form below to schedule your no obligation inspection.